We are always looking for highly-motivated individuals to join the LCPO! Interested undergraduate and graduate students can apply to the following offers. They are also strongly encouraged to contact LCPO's researchers directly.
Post-doctoral position in polymer chemistry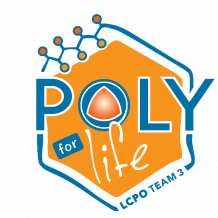 Applicant profile
The candidate recruited on this project will have a solid background in organic or polymer chemistry.
Skills in physical chemistry and nanomaterial characterization would be appreciated.


Post-doctoral fellowship from University of Bordeaux: ~2000 euros/month.
Interested applicants should send a letter, a detailed resume (CV) and contact information of three references
to Colin Bonduelle.
Project summary
Open position

Post-doctoral fellowship

Duration

18 months

Title

Amphiphilic polypeptides through aqueous ROPISA

Start date

As soon as possible from November 1st 2020

Laboratory

Laboratoire de Chimie des Polymères Organiques

LCPO, UMR5629, https://www.lcpo.fr/

Team: Polymer self-assembly and life sciences

ENSCBP, 16 avenue Pey-Berland, 33607 Pessac (Bordeaux) FRANCE

Funding

Profile

PhD in Polymer Chemistry

Contact

Colin Bonduelle

+33 (0)5 56 84 61 79

colin.bonduelle@enscbp.fr
Self-assembly of amphiphilic block copolymers is a promising strategy to design nanomaterials with unique functions especially for health and personal care applications (e.g., delivery of active ingredients and biomaterials). In this context, polymerization-induced self-assembly (PISA) is a simple, and easily up-scalable process for accessing amphiphilic polymers with simultaneous formulation of nanoparticles at high solid contents. The present research project proposes the aqueous ring-opening polymerization of N-carboxyanhydride (NCA) monomers to enable the design of amphiphilic polymers and of corresponding nanomaterials, in a challenging context where NCA monomers are currently used in anhydrous conditions to protect them from hydrolysis.

The candidate will work in the team "Polymer self-assembly and life sciences" of the LCPO in Pessac, France, in close collaboration with Aquitaine Science Transfert and an industrial collaborator (https://www.ast-innovations.com/).