Bordeaux Polymer Conférence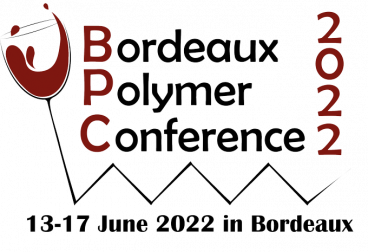 The "Laboratoire de Chimie des Polymères Organiques (LCPO)" is delighted to announce the second edition of Bordeaux Polymer Conference (BPC 2022) to be held from June 13-17, 2022 in Bordeaux (Talence Campus), FRANCE.
We anticipate that BPC 2022 will be a major post-Covid event and aim at offering our community the best forum for the dissemination of cutting-edge research in polymer science in an exciting atmosphere. We especially want to offer young researchers and faculties a vision for the future where polymer science will contribute to actively and positively to the next challenges for a sustainable society.
The conference will cover all topics in polymer science, including macromolecular/supramolecular engineering, sustainable/renewable polymers, self-assembly and interactions of polymers in life sciences and electronics.
The scientific program will feature plenary and invited lectures, oral communications and posters as well as poster and oral awards.
We foresee a maximum of 500 guests on a "first come, first served" basis.
Preliminary program and more info https://bpc2022.u-bordeaux.fr/en/