L'Oréal and LCPO create a joint laboratory dedicated to the innovation of "green" polymers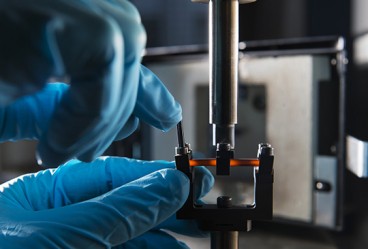 L'Oréal Research & Innovation and the LCPO have decided to join forces to conduct a joint research project on polymer development by inaugurating a joint laboratory on Friday 13 April.
A "scientific and human adventure", "mutual respect for each other's constraints and DNA", these are the words that inaugurated the joint laboratory between L'Oréal Research & Innovation and the LCPO on the Pessac campus. The creation of this joint laboratory, or jointlab, is a response to the desire to conduct joint research to develop polymers with cosmetic activities (skin care, make-up, etc.) that are environmentally friendly while maintaining the effectiveness and performance of the products in which they are used.
This initiative is part of a shared conception of innovation, at the interface of several scientific fields combining in particular chemistry, biotechnology, physical chemistry and biology, at a time when sustainable chemistry is a source of innovation and performance.This structure "outside the walls" will promote exchanges between the researchers of each entity in order to multiply the opportunities for new collaborations around ambitious scientific subjects, in a dynamic framework of exchange.
The eco-design of new active ingredients or polymers is a major challenge for L'Oréal, which imposes extremely restrictive rules on itself. These rules are based on the 12 principles of green chemistry and in particular the search for bio-sourced precursors, the use of green processes and respect for man and the environment. This requirement goes hand in hand with the search for ever-improved performance for products focused on the needs of consumers around the world. It is in this context that it is necessary to develop new synthesis technologies using green chemistry combining the best of chemistry, biotechnology and physical chemistry.
The subjects that will be addressed in this joint laboratory will be able to generate fundamental knowledge that can feed the cosmetics field but also the fields of biomedical and functional material.
Philippe Moretto, Vice-President Research and Éric Papon, Vice-President Innovation and Business Relations at the University of Bordeaux were keen to point out, at the inauguration, that there will not be a simple transfer of technology between L'Oréal and the LCPO and its tutelage, but that this laboratory allows researchers to have a real technological and strategic roadmap together and to share it over the long term.