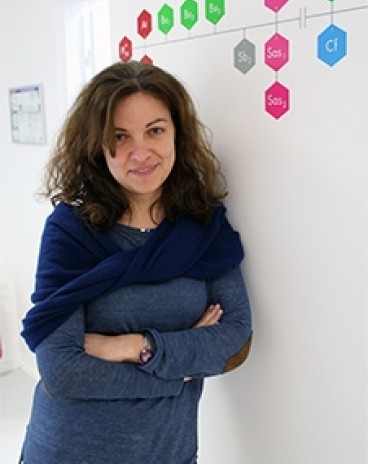 Category: Alumni
Status: Assistant professor
Employer: Bordeaux INP
Location: B8-Bu0-East
33 (0)5 40 00 37 17
%65%6c%65%6e%69%2e%70%61%76%6c%6f%70%6f%75%76%6f%75%40%65%6e%73%63%62%70%2e%66%72
Key research areas: Organic Electronics – Semiconducting and Ferroelectric Polymers – Structural and Electronic Properties of Organic Materials – Devices for Energy Harvesting and Lightening
Resume
Education and experience
Dr. Eleni Pavlopoulou studied Physics in the Aristotle University of Thessaloniki, Greece, and received a M.Sc. in Materials Physics from the same University in 2004. In 2009 she obtained a PhD in Polymer Physics from the University of Crete, Greece, working under the supervision of Prof. S. H. Anastasiadis in the Institute of Electronic Structure and Laser of the Foundation for Research and Technology – Hellas, IESL-FORTH. Then she moved to Princeton University, USA, and the group of Prof. Y.-L. (Lynn) Loo where she was introduced in Organic Electronics. In 2011 she was recruited in Prof. G. Hadziioannou's group in Bordeaux, for a second post-doc in Organic Electronics. Since September 2013 she is an Assistant Professor at the ENSCBP -Bordeaux INP, carrying out her research in LCPO.
Achievements and Functions
Dr. Eleni Pavlopoulou is in charge of the activities of the Hadziioannou's group concerning ferroelectric polymers. She is also involved in fabrication and physical characterizations of the organic electronic devices developed in the same group. As a student she received several scholarships from the Greek State for her ranking among her fellow students while in 2007 she was awarded by the Panhellenic Society of Solid State Physics and Materials Science as the most promising young researcher. In 2011 she received a Marie Curie fellowship (Intra-European Fellowship – Support for training and career development of researchers). She was part of the team of Prof. Hadziioannou that won the 2013 Prize of the French science magazine "La Recherche" in the chemistry category for their work on the use of block copolymers to stabilize organic photovoltaic cells.